Guyana and Suriname's decades-old plan to construct a bridge across the Corentyne River to link both countries, is a step closer to fruition with the establishment of a joint Working Group and the intended evaluation of shortlisted companies. This was revealed by both Heads of State during a press conference today.
Guyana's President, Dr. Irfaan Ali, said that the construction of the link has long been on the agenda of both countries, and now is the time to "consolidate" actions and to choose from the shortlisted companies that have submitted Expressions of Interest (EOI) for the bridge's construction.
"We've decided that the approach would be a design-build-finance-owned model," he said, while adding that both sides have agreed for the establishment of a Working Group.
He added that the group will include the addition of finance ministers of both states to determine the investments and concessions package that would accompany the Expression of Interest in securing the financing, building, operating and ownership of the bridge.
President of Suriname, Chandrikapersad Santokhi said that within one week, the Joint Evaluation Commission will evaluate if the selected eight companies meet the new requirements to conduct the study, design, and building of the bridge.
He said that technical advice from the maritime authorities of both countries will be included in the decision to determine where and how the bridge will be built. This decision must be made within four weeks, he said.
Dr. Ali noted that discussions were also facilitated on other aspects of transportation including air and maritime.
"There has been an agreement on a number of issues that were raised by the Private Sector in removing hurdles and impediments to allow for smoother air travel and greater reliability of the ferry service between Guyana and Suriname," Dr. Ali noted.
President Chandrikapersad Santokhi hailed the agreements and decisions as 'good news', which he said, show the strength of neighbourly cooperation and the importance of focusing on matters that bind the two countries. He expressed hope that the discussions and agreements will "pave the way for uplifting this generation and ensuring the wellbeing of future generations".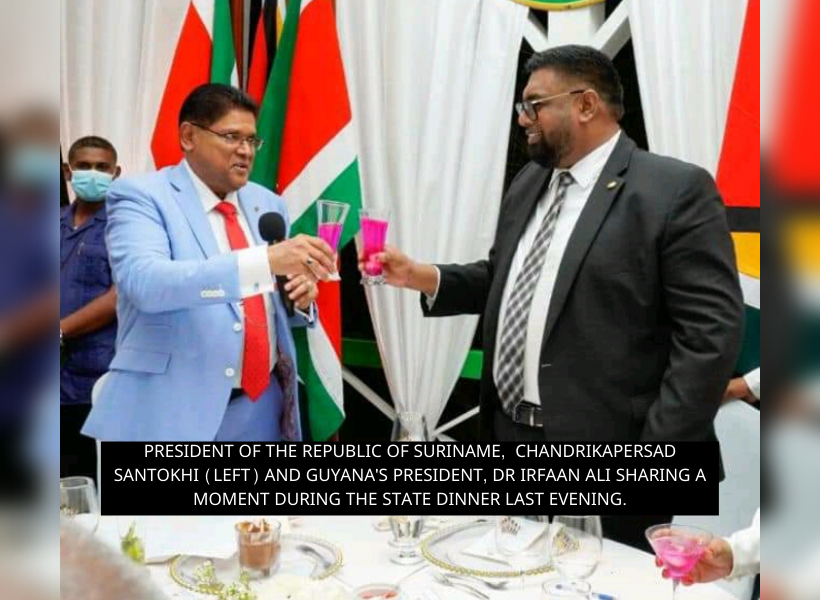 President Santokhi is in Guyana with his wife, First Lady Mellisa Santokhi-Seenacherry; Ambassador Albert R. Ramdin, the Minister of Foreign Affairs, International Business and International Cooperation; Parmanand Sewdien, the Minister of Agriculture, Animal Husbandry and Fisheries; Raid Nurmohamed, Minister of Public Works; Albert E. Jubitahana, the Minister of Transport, Communication and Tourism; David Abiamofo, Minister of Natural Resources and representatives of the State Oil Company; and officials from the Surinamese Private Sector.
President Santokhi will leave for Suriname tomorrow, bringing to an end his four-day visit to Guyana at the invitation of President Ali.