As investors continue to cast their eyes on Guyana's burgeoning economy, a a delegation comprising esteemed investors from the United States (US) and the Global Fund Managers group converged today to engage in fruitful discussions with President Irfaan Ali. This conclave served as an opportunity to further explore potential investment prospects in the country.
Among the distinguished representatives present were those hailing from renowned entities such as Hess Corporation which boasts a notable 30 percent stake in the esteemed Stabroek block offshore, being operated by ExxonMobil. Other prominent participants included the likes of Bank of America, Capital Group Companies, MFS Investment Management, Aristotle, and Black Rock, alongside various other esteemed corporations.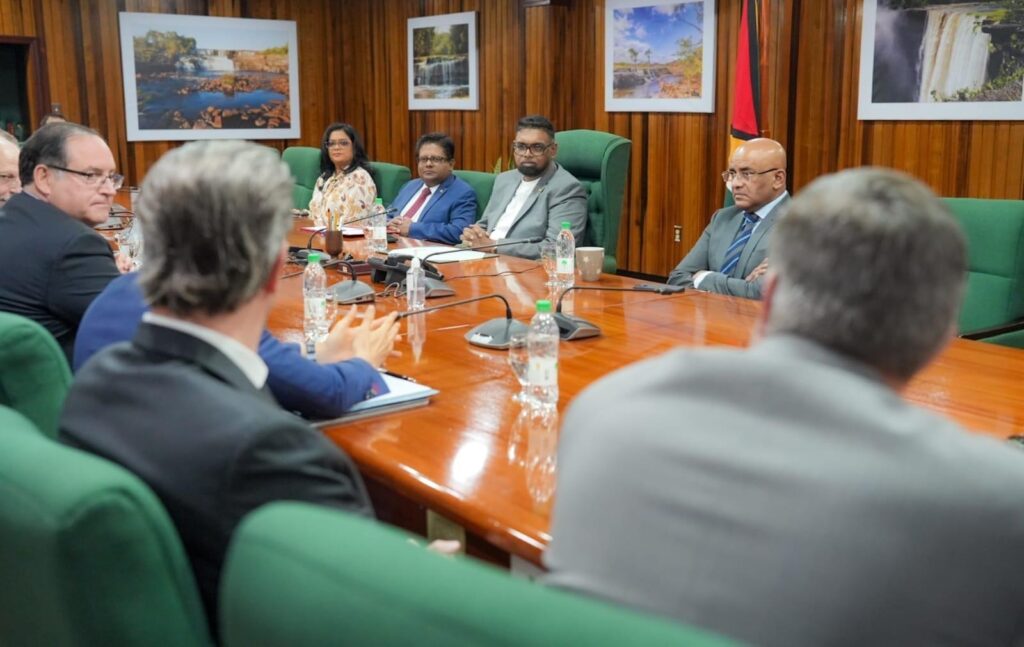 The meeting, which was held at the Office of the President, revolved not only around deliberations regarding potential investment opportunities but also aimed to accentuate the delegation's areas of expertise. They fervently sought insights into the government's visionary aspirations for Guyana and expressed their desire to contribute actively to the nation's comprehensive development agenda.
President Ali was accompanied by Vice President,Dr. Bharrat Jagdeo; Senior Minister in the Office of the President with Responsibility for Finance, Dr Ashni Singh; and Director of Presidential Affairs, Marcia Nadir-Sharma, lending their collective wisdom and leadership to the occasion.
It is noteworthy that the government has been ardently engaging international investors, particularly those well-versed in the intricacies of the oil and gas industry. In addition to the US investor delegation, the government is also currently engaging in discussions with a visiting delegation from Qatar, led by the Head of the Caribbean and South American Division at the Ministry of Foreign Affairs, Shafi Newaimi M.N. Al-Hajri.
This Qatari delegation's visit to Guyana serves as a consequential follow-up to the recent meeting between President Ali and Qatar's Emir, His Highness Sheikh Tamim bin Hamad Al Thani, and members of his Cabinet at the Amiri Diwan Palace in Doha. President Ali's visit to Qatar yielded a landmark accomplishment with the establishment of a Guyana Embassy in the country.
Moreover, the government has unveiled its plans for the Qatari delegation, where they will engage in a series of meetings with government officials and private sector stakeholders. These meetings will encompass informative presentations on various development areas and projects in Guyana. Furthermore, the visitors will be taken on guided tours of several investment projects, affording them firsthand insights into the nation's progressive landscape.