ExxonMobil's affiliate, Esso Exploration and Production Guyana Limited (EEPGL) and its partners expended a whopping $4 trillion into the Stabroek Block last year and are expected to make the same level of investment through to 2027.
Company officials disclosed that the future investments will be made in the Payara development project set to come on stream this year with the Prosperity floating, production, storage and offloading (FPSO) vessel, along with the gas-to-energy project. The Yellowtail and Uaru projects are also set to benefit too.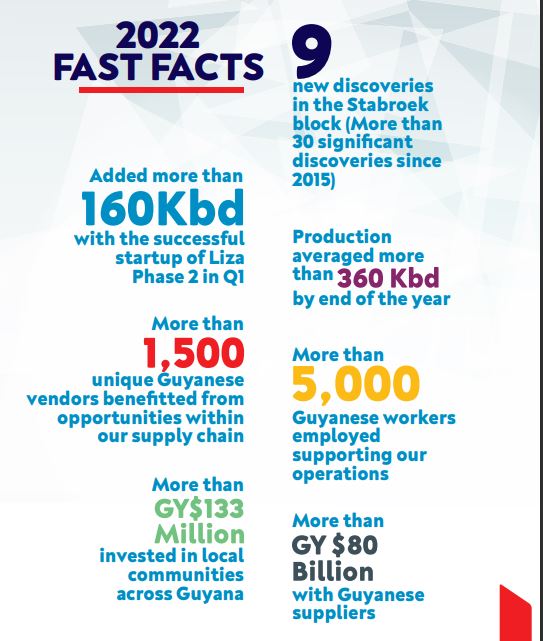 In terms of profits, and according to the accounting procedures of the Stabroek Block Production Sharing Agreement (PSA), the company made US$500M.
EEPGL also noted that it continued making substantial investments in Guyana, with total assets increasing 80% to $2.3 trillion.
With the start-up of the Liza Unity FPSO, EEPGL said gross production increased 138% and revenues more than tripled, reflecting an efficient start up, reliable operations at the Liza Destiny and higher oil prices vs. 2021.
With growing production, this news agency understands that government lifted approximately 13 million "Profit Oil" barrels, and when combined with a 200% increase in cash royalty payments, delivered approximately $240 billion to the Natural Resource Fund – a new annual record.
Additionally, EEPGL's equity in the block increased 71 percent versus year-end 2021 driven by earnings. This underscores EEPGL's strong financial position to meet its ongoing obligations to the Government and People of Guyana.
To date, more than 1,500 unique Guyanese vendors have benefited from opportunities within EEPGL's supply chain. This represents continuous progress over the years as oil and gas operations expand in Guyana.
In 2022 EEPGL and contractors spent over $80 billion with Guyanese suppliers.
Since announcing the first discovery of oil in 2015, EEPGL and its contractors have spent over $180 billion with Guyanese suppliers.