The Ministry of Education said it continues to ramp up efforts towards achieving universal secondary education with the awarding of six contracts to build a brand-new secondary school in Kwebanna, Region One.
Specifically, Minister of Education, Priya Manickchand reiterated her agency's commitment and by extension, the Government's to ensure each child has access to quality education at all levels. She explained that the construction of a secondary school in Kwebana will transform the lives of persons living in Region One as children will no longer have to travel far distances away from their homes to access quality secondary education.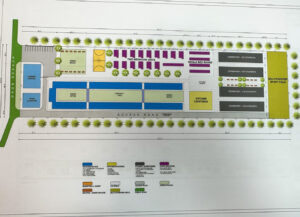 Currently, students in surrounding villages such as Santa Cruz, Warapoka, St. Bedes, Chinese Landing, Kokerite, Kariako, Wallaba and Karaburi are attending primary tops to receive secondary education.
The establishment of the Kwebanna Secondary School will see these primary tops being closed and these students will have the opportunity to receive a sound secondary education.
Once completed, the secondary institution will accommodate over 600 students and be one of the most advanced in the hinterland. The design of the school includes a main lecture hall with over 30 classrooms, Science Laboratories such as Physics, Chemistry and Biology, a TVET centre complete with Industrial and Home Economics labs, a student canteen and cafeteria and a sanitary block. There will be a recreational facility for Basketball, Cricket, and other curriculum sports.
The new school will also have a students' dormitory which will house 250 students as well as a teachers' quarters to house 25 teachers.
The building will be equipped with fire prevention measures such as fire escape exits, escape doors, fire alarms, extinguishers, limited timber usage, metal ceilings and fire-retardant panels.
The contracts, which total $2.017 billion were awarded to Supreme Contracting & Supplies, Bree's Enterprise, AS Construction and Singh & Son Construction.
Supreme Contracting & Supplies was awarded two contracts totalling $392.9 million. This will see the company completing the site development works along with sub-structure works and the school building.
Meanwhile, Singh and Son Construction received two contracts totalling $1.27 billion. The company will be responsible for the external and finishing works.
Bree's Enterprise and AS Construction were not present during today's signing but will sign their contracts at a later date.
The construction of the school is expected to be completed within eight months.