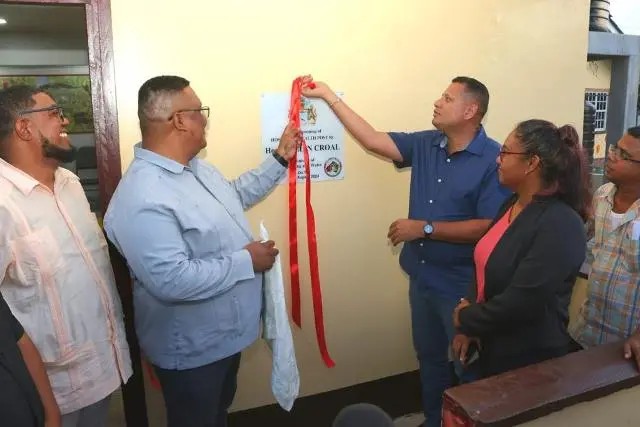 The Hosororo Health Post has been upgraded to a Health Centre through a $13.8 million investment. This will significantly enhance the delivery of health services in the Region One community.
Minister of Housing and Water, Collin Croal attended the recommissioning ceremony on Monday. He was joined by Regional Chairman, Brentnol Ashley, Regional Executive Officer (REO), Tikaram Bisesar and Regional Health Officer (RHO), Dr. Steven Cheefoon.
During his address, Minister Croal emphasised that the upgrading of the health facility forms part of the broader agenda to ensure citizens are benefitting from enhance healthcare services."It is not just about the building, it is about ensuring that when you turn up tomorrow, you will be getting a better level of service than what you were getting yesterday. You will no longer have to flood the hospital for basic services you have it right in your village," he underscored.As part of the improvements, the health centre will now have a weekly doctor's visit and a stationed dentist at the facility among other added features.
The minister urged the residents to care the facility and provide support to the Community Health Workers who will be manning the centre.Minister Croal highlighted that the government is implementing an ambitious strategy to enhance healthcare facilities throughout the region, ensuring their readiness to serve citizens.Notably, he said regional hospitals are being enhanced to reduce the need for individuals to travel to the central hospital in Georgetown for medical care."When we talk about decentralisation of healthcare this is what we mean. We mean that hospitals right within your region must be equipped to provide services to you," he emphasised.
The upgrading of the health post forms part of the Regional Democratic Council's 2023 programme.According to the Regional Chairman, this project exemplifies the region's commitment, as well as the government's dedication, to delivering effective and efficient healthcare.This involves ensuring not only the availability of skilled personnel but also the appropriate infrastructure to support the range of services being provided. (Extracted from the Department of Public Information)