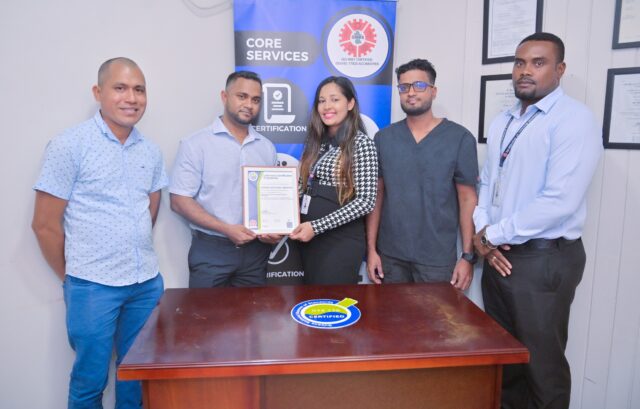 The Universal Health Care Laboratory was certified by the Guyana National Bureau of Standards (GNBS) today, meeting the National Standard GYS 170:2021 for laboratory operations. This marks the 13th laboratory to achieve certification under the GNBS's Laboratory Certification Programme.
At a ceremony in the laboratory's Grove location on East Bank Demerara (EBD), Laboratory Director Dr. Ravi Persaud accepted the certification. The facility now boasts certification for tests in areas including Haematology, Biochemistry, Serology, Urology, and Immunology.
Expressing appreciation, General Manager, Devendra Singh thanked GNBS Technical Officers for their assistance in meeting the standard's requirements. "We remain committed to maintaining this standard, ensuring our results continue to meet quality benchmarks," he said.
The certification, presented by Mr. Keon Rankin, Head of the GNBS Certification Services Department, is valid for two years. During this time, surveillance audits will ensure the laboratory maintains the stipulated standards.
Mr. Rankin applauded the laboratory for its dedication to quality and urged continued adherence to the program's requirements.
In related news, Balwant Singh's Hospital Laboratory and the Anamayah Memorial Hospital Laboratory recently received recertification, aligning with the updated National Standard.
The GNBS's Laboratory Certification Programme aims to verify that medical and testing laboratories meet the National Standard. Meeting these requirements ensures laboratories provide reliable and accurate results, bolstering customer trust.
As the GNBS champions quality, it calls upon all non-certified laboratories to consider joining its certification program. Achieving this certification can pave the way for international accreditation and attract a broader client base due to increased operational efficiency and trust.
For further details, GNBS can be reached at [http://gnbsgy.org](http://gnbsgy.org "smartCard-inline") or contacted directly via the numbers provided.