Two pupils from government schools have secured the top spot in the country at this year's National Grade Six Assessment 2019. These students make up the 14,300 candidates who wrote this assessment on April 17-18 this year.
Dave Chowtie from Graham's Hall Primary and Venisha Lall from CV Nunes Primary both secured 532 marks.
Four candidates with 530 marks each shared the third position, namely Shrirish Persaud and Ruth Larson, both of Academy of Excellence; Ethan Bianchini of Marian Academy; and Shivali Challu of Mae's Under 12. Sharing the seventh position with 529 marks are Sarita Somai of Success Elementary and Ajala Maharaj of Marian Academy.
Nine candidates each with 528 marks shared the ninth position, namely Sarah Johnson, Jaaya Shiwraj, and Aditya Sharma of Academy of Excellence; Maaseiah Salikram and Akaia Griffith of Success Elementary; Umashankar Singh of Novar Primary; Devine Amsterdam of New Guyana School; Malene Crandon of Josel Educational Institute; and Narindra Singh of Marian Academy.
Speaking this morning at the National Centre of Educational Resources Development (NCERD), Minister of Education Dr Nicolette Henry told attendees that she is very much pleased with the performance of students this year.
She acknowledged the help of the Caribbean Examinations Council (CXC) which has been collaborating with the education ministry to improve the quality of all primary grade assessments.
"Teachers, subject specialists, and test development officers developed the test items with the technical guidance of the Caribbean Examinations Council, addressing key areas such as item construction, weighting of items, sampling and other psychometric elements," She said.
The minister explained that candidates were tested in four subjects, namely Mathematics, English, Science, and Social Studies. The examination in each subject area consisted of two papers; Paper One consisted of forty multiple choice items while Paper Two consisted of essay type or open-ended items.
With regards to Mathematics, students were tested in the areas of knowledge, algorithmic thinking, and reasoning. For Science, candidates were tested in knowledge, comprehension and application. In the case of Social Studies, students were tested on knowledge, conceptual understanding, and the use of knowledge. Finally, for English, students were tested in the areas of reading, comprehension, vocabulary, content focus, organisation, and mechanics.
The Education Minister told attendees that the highest possible standardised scores obtainable for each subject were: Mathematics, 133; English, 130; Social Studies, 138; and Science, 135. The highest possible score obtainable was 536 marks.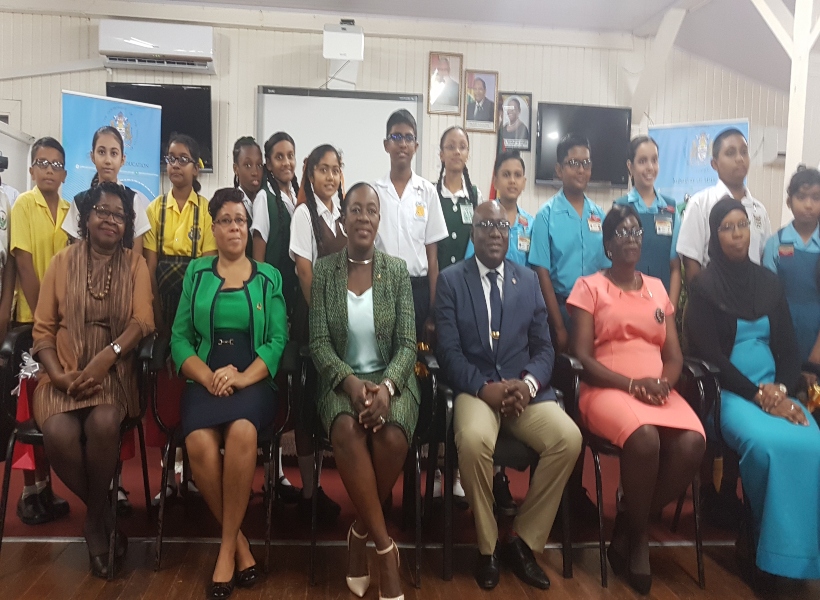 The NGSA results will be available online. Parents and students are advised to log onto the following website: exams.moeguyana.org. The candidate's timetable will provide the necessary information to access these results.