Sources at the Ministry of Public Infrastructure have confirmed social media reports that the residents from Columbia to Fairfield Mahaicony, East Coast Demerara, have been affected by the current spring tide.
Many of the photos posted online depict flooding in some of the communities.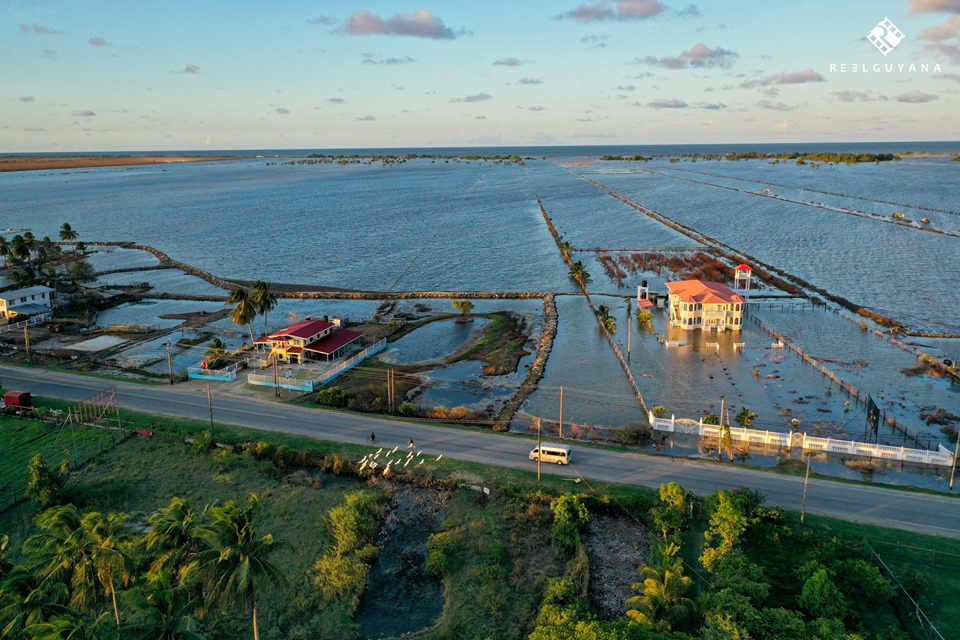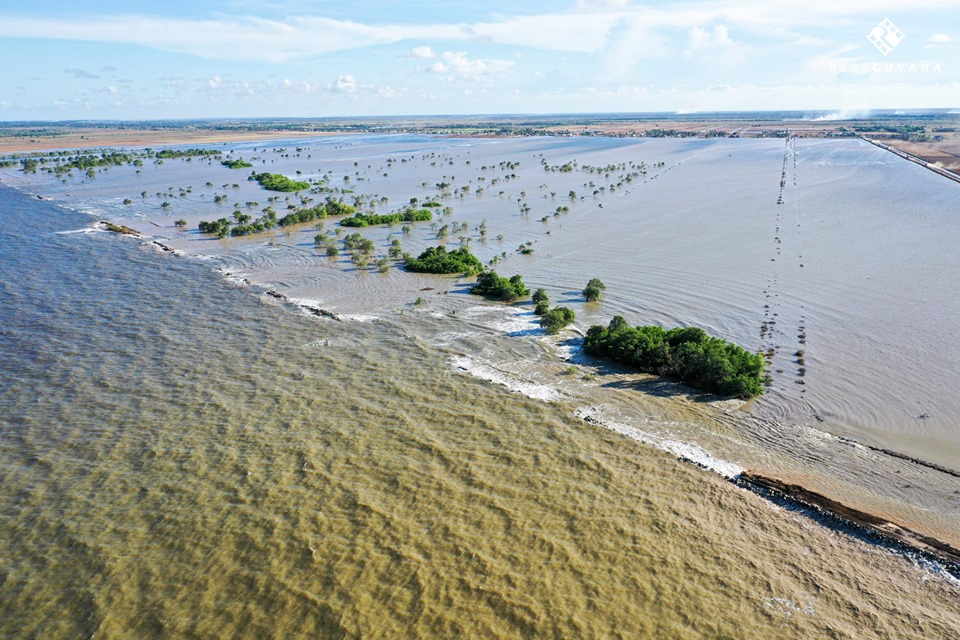 Since the last period of spring tide that ended October 2, the Public Infrastructure Ministry spearheaded emergency works to arrest the breaches in the Dantzig to Fairfield area.
Executing those corrective measures are two contractors – BK International and A&S General Contractors Inc.
To date, more than 6,000 tonnes of stone has been delivered to strengthen the severely impacted foreshore. Already, a 100m of rip-rap sea defence structure was constructed at Fairfield.
Concerning the drainage of the Bellamy Canal that runs parallel to the foreshore and the Atlantic Ocean, Guyana Standard understands that four diesel pumps were immediately put in place to facilitate maximum drawdown.
The National Drainage and Irrigation Authority (NDIA) within the Ministry of Agriculture led this operation in which two pumps were positioned in Cottage, and Dantzig. NDIA also impoldered numerous acres of rice lands to reduce the impact of flooding on residential communities.
The Ministry reported last week, that given the extent of the damage to the foreshore after the last spring tide, corrective measures have been stifled by numerous uncontrollable factors.
Four barges and one tugboat sank at the foreshore while traversing the treacherous waters to deliver much-needed boulders to the critical sites.
Nevertheless, the Public Infrastructure Ministry, through the contractors, are still working along the foreshore in Mahaicony.
Speaking to the Guyana Standard this morning, Chief Sea and River Defence Officer, Kevin Samad, noted that works have "picked up", and the contractors are pulling out all the stops to ensure that the works are carried out effectively.
He noted too that the measures that were put in place prior to the first spring tide, were not compromised by this high tide.
(Photos are taken from Reel Guyana)