Four contracts totaling over GYD$95M were signed yesterday, which will see the undertaking of water supply improvement projects to be done in Fly Hill, Kwaimatta, Shulinab, Wowetta and Aranaputa in Region 9 (Upper Takatu/Upper Essequibo).
The contracts were signed among the Guyana Water Incorporated (GWI), Basic Needs Trust Fund (BNTF), Caribbean Engineering and Management Consultants Inc. (CEMCO) and the contractors.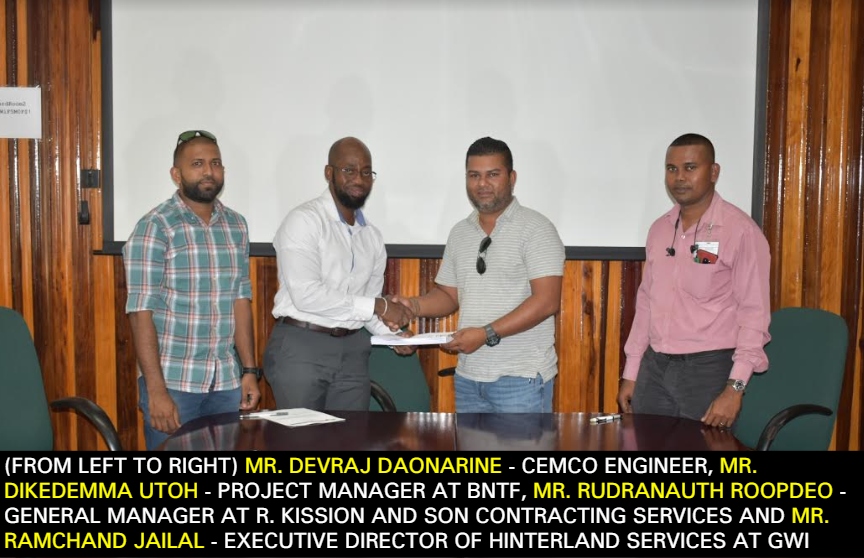 Following visits to these communities, GWI made note of the need for improved water supply systems and reached out to the BNTF to assist with funding.
The projects entail the installation of transmission and distribution mains, photovoltaic systems, new service connections and the construction of trestles, as the communities already have wells, two of which were drilled by GWI.
The contracts for Fly Hill and Kwaimatta were awarded to R. Kissoon and Son Contracting Services for approximately G$15M and G$10M respectively. The Shulinab and Wowetta contracts were awarded to Alvin Chowramootoo Construction Services for G$22M and G$27M respectively and the contract for Aranaputa was awarded to Faldhari Singh and Son Contracting Services for G$35M.
During the signing ceremony, GWI's Executive Director of Hinterland Services, Ramchand Jailal called on the contractors to execute their projects with the intention of gifting the communities running water in time for Guyana's 50th Republic Anniversary.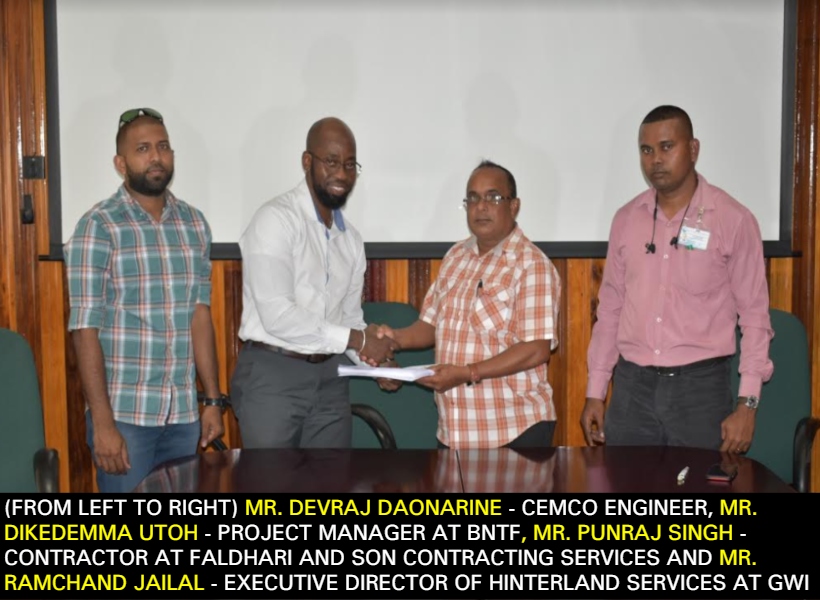 Afraz Ally, an Engineer at Faldhari Singh and Son Contracting Services, noted that given the scope of works, completing the project in time for February 23, 2020, is a realistic timeline to work towards. Sharing similar sentiments was General Manager of R. Kissoon and Son, Rudranauth Roopdeo, who stated that the majority of his equipment is already in the Region, therefore mobilizing and executing are all that needs to be done.
GWI's Managing Director, Dr. Richard Van West-Charles urged the contractors to employ labour from the communities and to ensure the village councils and regional administration are appraised of their work.