While the deforestation rates in Guyana post-2015 remain the lowest in 9 years, forestry production reflects the total opposite. In fact, yields during 2015 and 2018, did not exceed 400,000 cubic metres (m3). This is according to the Ministry of Natural Resources.
No data was provided for 2019.
The data for the 9-year period, shows 2014 as the only year where production exceeded 500,000 m3.
The lowest production was recorded in 2016 (353,500m3), followed by 2017 (377,100m3) and 2018 (385,700m3).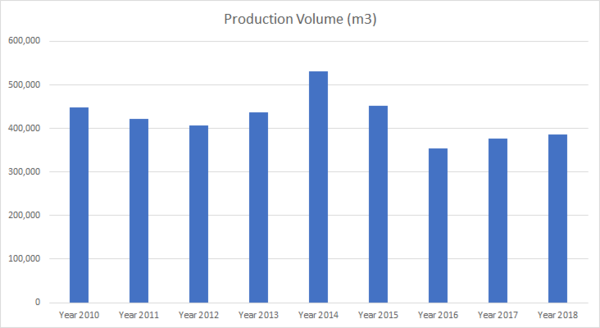 Over this time, the ministry said that the Guyana Forestry Commission (GFC), undertook a "comprehensive" effort to re-examine concessions which had been allocated, whilst providing support to ensure that concessionaires are fulfilling their contractual obligations.
During this period, some 2m hectares of forest area were restored to unallocated state forests, including that of the Barama Company Ltd which voluntarily relinquished its Concessions. The lower production volume can be associated with these actions, although it is useful to note it is not relevant to the deforestation rate per se, the agency noted.
The ministry said that it remains steadfast in its commitment that has been underscored in the revised National Forest Policy 2018.
"The role of Guyana's forest is far beyond timber harvesting, and there has been a progressive move to effectively embrace this in Guyana – forests for conservation and sustainable utilization such as eco-tourism, research, biodiversity and protection as well as for timber harvesting. This is more incumbent on Guyana now that we are an oil producing Nation," the ministry noted.