The Ministry of Natural Resources has revealed statistics which show that during the last 9 years, lowest deforestation rates were recorded during 2015 and 2018.
This disclosure comes days after the sum of G$9.1B was released to the government under the Guyana/ Norway Agreement.
The basis of the Guyana Norway Agreement rests on keeping Guyana's forest cover maintained at a high level, and concurrently, deforestation rates at a low level. The work associated with managing forest cover and monitoring and reporting on performance on an annual basis, essentially that which forms the performance reporting system, has been undertaken by the Guyana Forestry Commission (GFC) since the inception of the agreement in 2010.
The basis of the agreement has been fulfilled in large part, due to the work of the GFC.
The data provided by the ministry shows that during the period 2015 to 2018, Guyana has seen lower deforestation rates than the previous years of the 9- year reporting period to date. The statistics for 2019, were listed as "in process".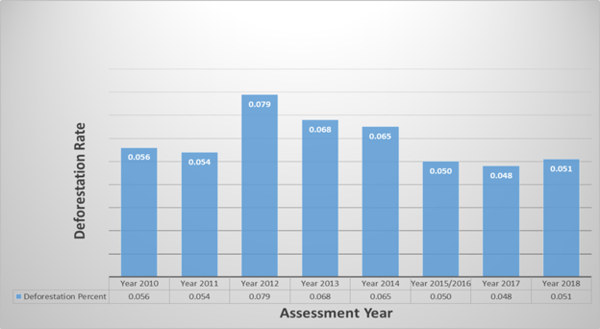 The ministry said that it is pleased about these results, as these speak to the "commendable" stewardship of Guyana's forest.
Throughout this entire period, forest cover in Guyana has been maintained at over 99%, the ministry reported.