Earlier this evening, attorney at law and People's Progressive Party/Civic (PPP/C) member, Charles Ramson told residents of the Queenstown, Albertown area that Chris Gayle wants to collect the money that is still owed to him by the People's National Congress Reform (PNCR). This was during a PPP/C public meeting.
According to Ramson, he was reliably informed that Gayle is actively trying to get the outstanding money that was promised to him for his visit to Linden when PNCR celebrated its 62nd anniversary in October last.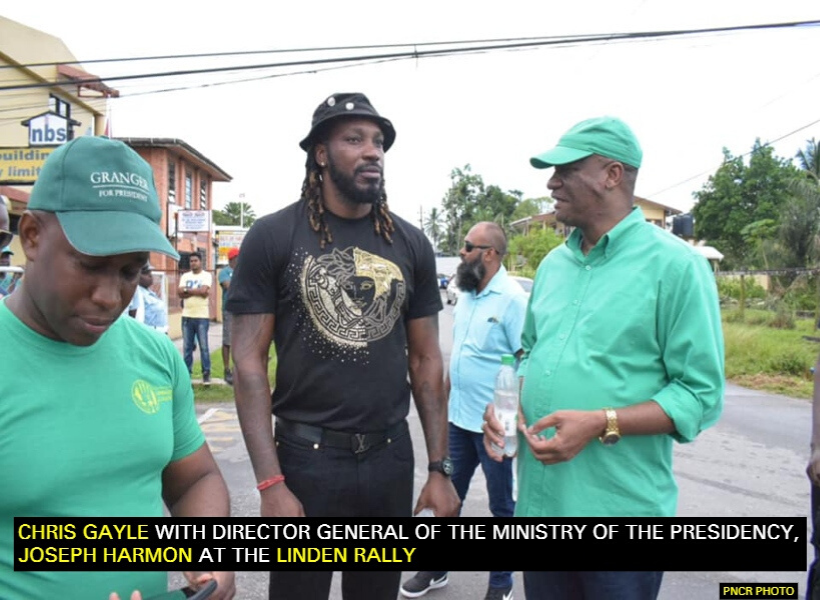 Ramson said that Gayle was promised US$50,000 for the visit to Linden where he walked with PNCR officials and greeted supporters. However, the world-famous cricketer, according to Ramson, was only paid US$10,000 of the promised sum.
According to Ramson, Gayle is now being pushed around. Ramson said that when Gayle asked PNCR officials about his outstanding payments, he was referred to a Guyanese former national cricketer who also runs a business now. Ramson said that the former National cricketer is now "pretending that he does not know about the money."
Ramson told those who listened to him, "Nothing don't hide in Guyana, that is how I know about the Chris Gayle story."
He also told listeners, some of whom erected APNU flags and banners with President David Granger, "If you don't believe me ask Harmon, he knows about it."
The politician told listeners that they should be worried when PNC brings foreigners to do its bid as often times "it is your money that is being used, tax dollars."
Ramson also spoke about APNU+AFC's use of Farmer Nappy for its campaign launch. He said, "They took $20M of your money to pay a foreigner to come and cuss down a man by the name of Jagdeo. They bring a foreigner to cuss down a Guyanese national."
Ramson said that it is that sort of "wastage" and "disrespect" that the people of Guyana must vote against come March 2. He said, "It is only 32 days left to get rid of this incompetent cabal. Do not hold on to all their failed promises. They were to jail Jagdeo but up to now, they cannot touch him. How they will fulfill these other promises if they cannot even touch Jagdeo."
Ramson said that while the PNC is busy hiring foreigners for PR purposes, over 30,000 jobs were lost over the past four and a half years "today alone, 200 jobs were lost. That is only today." Ramson said that on the contrary, the PPP is set to create 50,000 jobs within the next five years.
He said that while house lots were only given out to foreigners and ministers, the PPP is set to deliver 50,000 low-cost house lots within the next five years.
He said, "We are going to ensure free university education, 20,000 online scholarships and we are going to immediately bring back the $10,000 cash grant then increase it to $50,000 per child in the coming years."
Ramson also spoke about the new tax regime that PPP will create to ensure the ordinary man has to pay less and thus will have more money in his pocket.