The United Kingdom on Monday expressed that it is "deeply concerned" about the March 2 General and Regional Elections and the subsequent events that have followed.
In response to a letter sent to the UK's Foreign Secretary by Chairman of the Private Sector Commission (PSC), Captain Gerry Gouveia, UK's Minister for Sustainable Development and the Overseas Territories, Baroness Elizabeth Grace Sugg, said that it is her country's view and that of other diplomatic colleagues and international observers, that it is impossible for the results of the elections to be announced in the absence of a credible verification and tabulation process.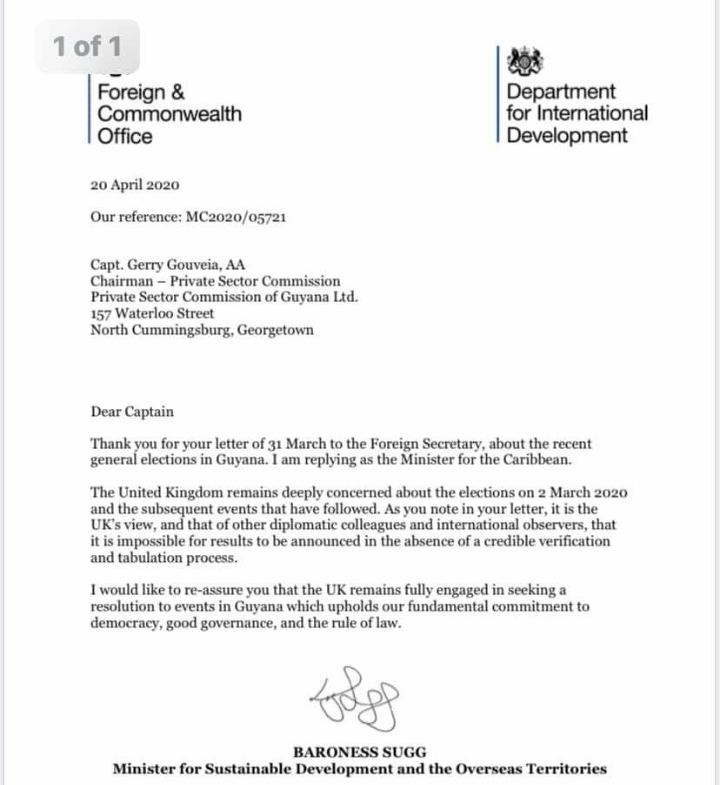 In closing, Baroness Sugg told Captain Gouveia, "I would like to re-assure you that the UK remains fully engaged in seeking a resolution to the events in Guyana which upholds our fundamental commitment to democracy, good governance and the Rule of Law."
On March 24, Foreign Secretary of the United Kingdom (UK), Dominic Raab, warned that any government sworn in on the basis of non-credible results will face strong international condemnation. He even cautioned, that if the situation continues to deteriorate, this international response will include a range of serious consequences for those concerned.
Reacting to the elections impasse, Raab assured Guyana that the UK, along with its partners, are ready to assist in ensuring a credible process that provides the democratic outcome that the Guyanese people deserve. Against this background, Raab said that the transition of government should only take place in line with transparent and democratic principles that lead to credible results.
Today, Tuesday, April 21, 2020, marks 51 days since voters cast their ballots. The Guyana Elections Commission (GECOM) is yet to make a final declaration on the elections results, so that a winner can be announced, and a President sworn in.