Almost one week after an A Partnership for National Unity/ Alliance for Change (AFC+APNU) activist threatened to kill Chairman of the Guyana Elections Commission, retired Judge Claudette Singh, he was today charged and released on $500,000 bail for the offence.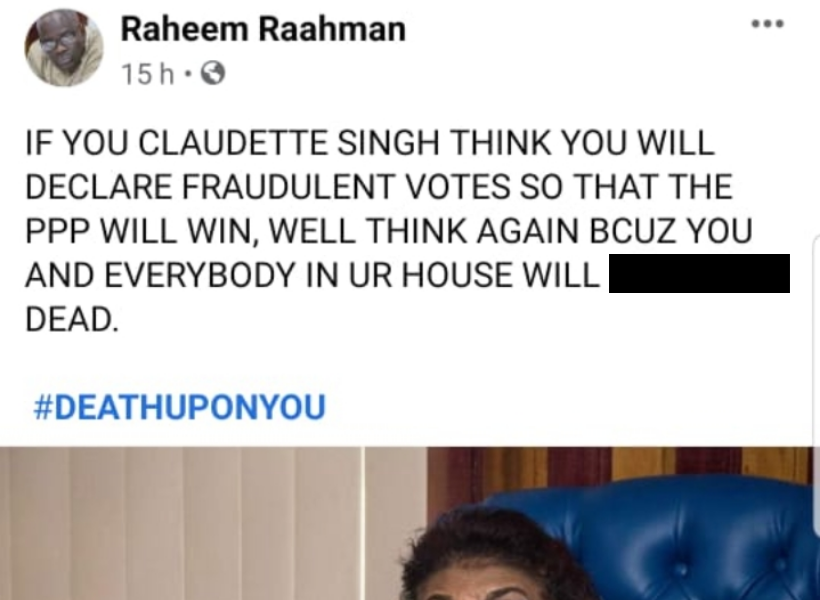 Ryan Williams of 27 Silver City Linden, was charged under the cybercrime act.
Williams appeared before Magistrate Wanda Fortune in the Linden Magistrate Court where the charge was read to him. He denied the charge which stated that between July 13 and July 14, 2020, he used a computer device to compel a person. He was instructed to make his next court appearance on August 3, 2020.
In accordance with the Cyber Crime Act, it states that any person who commits an offence under this section is liable– on summary conviction to a fine of five million dollars and imprisonment for three years.
Last week, ranks from the Guyana Police Force's Major Crimes Unit arrested Williams after it was revealed that a threat was made via a Facebook post under a fictitious name, "Raheem Raahman."
It reads, "If you Claudette Singh think you will declare fraudulent votes so that the PPP will win, well think again bcuz you and everybody in ur house will f*&king dead."
Guyana Standard has been informed that after the threat was made, police ranks immediately started working on tracking down the individual(s) behind the account since it was a matter of national security. It took a few hours for the lawmen to make an arrest.
Williams, on his arrest allegedly claimed that he is a supporter of the governing party and is unhappy with the current elections situation.