Hers is not the beautiful story of her first love being her true love. She suffered; she suffered tremendously and was even abused in front of her children.
But, now 48-year- old Indra Ramcharran has made a commitment to put herself first and make the rest of her life the best of her life.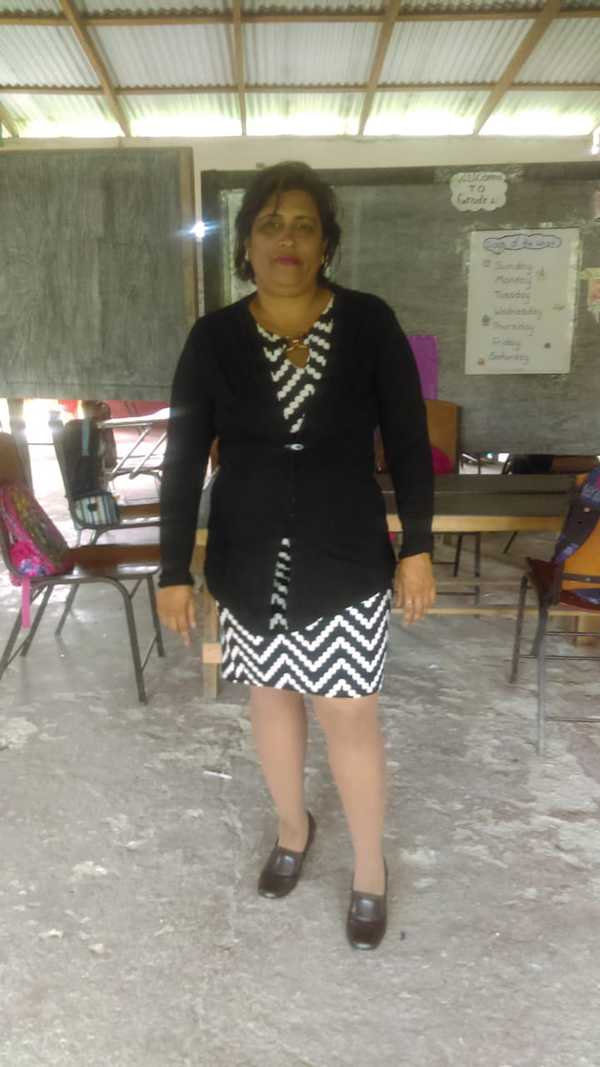 Ramcharran was married to a "man of God" who hardly practiced what he preached. He abused her physically and emotionally.
Ramcharran struggled in silence while keeping up the façade of   being a happy wife and a good role model for newly married couples.
Ramcharran got married at 19 and became a mother one year later. At that time, she was living in Suriname but soon returned to Guyana.
In 1998, the same year she made her second daughter, Ramcharran's husband said that he got a "calling" from God and decided to study to become a pastor, which he became in 2000.
He became the pastor of a Canal No. 1 church, and according to Ramcharran, he started off in a powerful way.
After realizing that her husband was good at counseling, she encouraged him to further his studies in that field.
Ramcharran saw an advertisement about an introduction to counselling offered by the American University of Peace Studies. She got a certificate and then encouraged her husband to enroll.
She helped him to get a one-year scholarship. After completing his first year, Ramcharran encouraged her husband to continue studying and committed to stand the cost. She endeavored to do this while continuing to stand the expenses of running a home and taking care of the children.
Ramcharran told Guyana Standard that her family warned her against what she was doing. They said to her that her husband should work and contribute to the bills, but she saw it fit to allow him to study while she shouldered all financial responsibilities.
Over time, according to Ramcharran, her husband started shirking his responsibilities at the church.
Soon enough, the family had to leave the church and they started their own in Goed Fortuin with overseas pastors' help. Her husband then informed her that he wants to become a Doctor in Psychology. She continued supporting his dreams and continued working a few jobs as her husband's only source of income was the church.
Ramcharran recalled that she found it hard trying to upkeep all her financial obligations, but after some time, that was not her only major source of stress and fatigue.
The pastor became verbally abusive, and his behavior became shady. Ramcharran recalled that many days the pastor would spend practically the entire day out of the house claiming he was at university.
But after suspicions of an affair started to flare, she confronted him. That confrontation did not go well. In fact, that is when she got her first hit to the head.
Ramcharran said that she later found out who the other woman was, and this further angered her husband. In a fit of rage, the pastor dealt his wife a few lashes with objects closest to his hands.
"He was still a pastor, and he said not to let the church members know anything. I then said that I totally understand that people make mistakes. But it was like after that; there was no stopping him," Indra recalled.
In 2009, Indra secured a house lot in La Parfaite Harmonie, but she was still living in a rented house. Having an income from being a pastor, her husband was responsible for paying the rent.
However, one day, she received a notice to attend court because she had three months' rent outstanding.  When she queried why he didn't pay, the pastor responded that he had things to do.
She was made to pay the outstanding amount, and the landlord increased the rent. Not being able to afford the increased rent, the family moved again.
This time, they moved to a structure erected on the land secured a few years before. There, Ramcharran's marriage moved from bad to worse. The pastor's abusive ways were amplified.
To distract herself, Ramcharran launched a non-profit/non-governmental organization called The Orchid Foundation that focused on empowerment.
Around that same time, the pastor attained a degree in psychology and decided that he had outgrown the church. He even stood behind the pulpit and said, "I have to get a next church because my preaching doesn't educate yall."
Indra went home and questioned her husband as to why he would utter those words. But according to her, he responded, "Shut up! You can see that I outgrow it here."  He told her he was ready to be like John Maxwell, an American author, speaker, and pastor.
Church membership soon took a steep dip, but that did not cause the pastor to see the light. The abusive ways persisted.
Ramcharran recalled that one Sunday morning, her husband went into the shower and left his cellular phone near her. Messages were continually going through, so she decided to read. When the pastor came out of the shower, she told him about the inappropriate messages.
He responded, "Wait, man, it is a Sunday morning, and is a story you want to make?' I said you're a pastor. Whatever happened before, I have forgiven you. I've hidden it from the church. He said, 'You are not going to shut your fu@$k mouth.' And he picked up a wooden vase and hit me in my tummy," Indra relayed.
Indra still went to church that morning and listened to her husband preach. In 2010, a loan was taken to extend the house that they built. The loan was taken in both of their names, but her husband was solely responsible for the repayment.
Ramcharran recalled that in 2017 on Father's Day, as soon as she opened the newspaper, she saw her house was up for tender by the bank. Going into the bank the next day, Ramcharran discovered that her husband was in default and owed several months of payments.
The bank took the house, and she will now have to bid to get her own home. That process is ongoing.
She claimed that her husband had used reverse psychology to get her children to view her as the bad person in the marriage.
But despite what happened, and how she stuck by her husband throughout the bad times, in January 2018, he asked for a divorce citing that he was no longer interested in her and was seeing someone else. The divorce is over, and she is now free.
Indra said that life was difficult for her, and she even attempted suicide, but she feels privileged now to have made it out of that relationship alive. The woman said that she is now stronger than she ever was and is ready to take charge of her own happiness.
She now has a good relationship with her daughters. Ramcharran still has the NGO she established and is putting her time and energy there.
Asked her advice to young women, she said, "invest in yourself, spend quality time with yourself, buy that shoe or dress you wanted. Pay attention to your inner voice. Believe in yourself. Never give up on life, no matter how difficult your life becomes. Always live in hope, have faith and belief in our heavenly father."