Trent University, one of Canada's top universities, has proudly recognised the accomplishments of Stacy James and Malaika Persaud as the first graduates of the Sustainable Guyana Programme. The duo successfully completed their Master of Arts in Sustainability Studies, marking a significant milestone for both the students and the collaborative initiative between Trent University, the University of Guyana, and Guyana as a whole.
The Sustainable Guyana Programme, established in 2019 through a strategic partnership, provides University of Guyana employees with opportunities to pursue graduate-level credentials at Trent University. This collaboration not only enhances the individuals' skills and research capacity but also focuses on education in non-fossil, sustainable sectors of the Guyanese economy.
The groundbreaking partnership received support from CGX Energy Inc. (CGX) and Frontera Energy Corporation (FEC) and not only covers tuition fees for students but also provides stipends for living and travel expenses. Additionally, the programme ensures that students have access to the necessary resources to make a tangible impact on Guyana's sustainable development by covering research project costs.
Out of the nine University of Guyana employees who embarked on their studies at Trent, Stacy James and Malaika Persaud have become the programme's trailblazers as the first two to successfully complete their graduate degrees.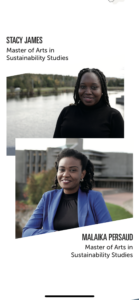 Throughout her time at Trent, Malaika dedicated her efforts to gaining a deeper understanding of traditional Guyanese medicine. Leveraging her background as a pharmacist, she aimed to expand on the traditional uses of sweet aloe by integrating a scientific perspective on the plant's medicinal properties. Reflecting on her experience, Malaika shared, "Learning about sustainability in an arts-based program gave me the really valuable experience of getting new perspectives about my work and opened up new views of the world."
Similarly equipped with a background in pharmaceutical sciences, Stacy focused her research on the scientific properties and chemical nature of oils derived from the abundant crabwood tree found in Guyana's rainforests. Stacy expressed her gratitude, saying, "It's a privilege to be part of the Sustainable Guyana programme, to have the opportunity to be here at Trent and graduate as a master's student." She eagerly looks forward to pursuing her PhD at Trent and returning to Guyana armed with both master's and doctorate degrees to share her new knowledge and skills with future generations of Guyanese scholars.
Amidst the joyous occasion, Dr. Suresh Narine, Chair of the Sustainable Guyana Programme, expressed his enthusiasm, stating, "It is a momentous day for Stacy and Malaika, for the other Sustainable Guyana students, and for Trent University, the University of Guyana, and the country of Guyana." Dr. Narine emphasized the program's mission to equip Guyana with the human capacity needed to chart a sustainable developmental trajectory, combining deep inquiry into areas such as indigeneity, sustainability, science, and innovation.
The university has noted that their achievements serve as an inspiration to other Sustainable Guyana students currently pursuing their studies at Trent.
Moreover, it expressed its delight in announcing that the Sustainable Guyana Programme will continue to provide comprehensive support to these dedicated students. With a focus on environmental and life sciences, interdisciplinary social research, and applied modelling and quantitative methods, the program aims to equip these individuals with the knowledge and skills necessary to contribute significantly to Guyana's sustainable development.