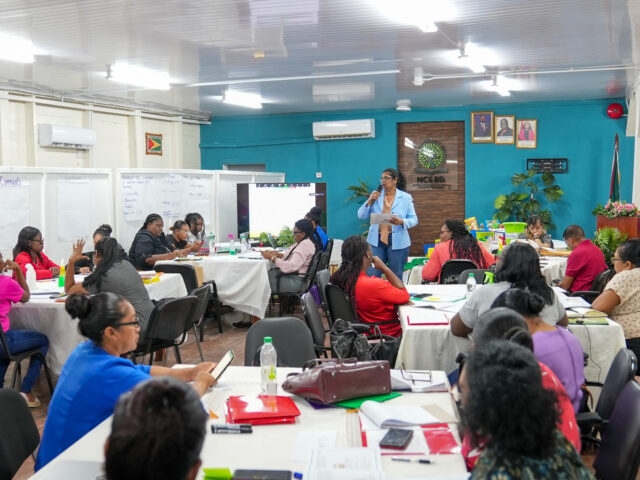 The Ministry of Education will pilot the Guyana Renewed Curriculum in Year Two of the pilot schools as of September 2023. Both Years one and two classes are now required to pilot this curriculum.
As such, the Ministry of Education's Nursery Sector is currently hosting a workshop for master trainers at the National Centre for Educational Resource Development (NCERD). According to Assistant Chief Education Officer with responsibility for Nursery Education, Devendra Persaud, the workshop is a refresher training in preparation for the training of Nursery Year Two teachers that will be held soon.
He said that the refresher training is crucial as it reduces mistakes and errors by an incredible margin. He said that such engagements enable stronger memory retention and help to achieve better compliance.
Persaud explained that the objectives of the training exercise are to reinforce key learning concepts, address knowledge gaps among participants, ensure master trainers' knowledge is up to date, update master trainers on new and updated procedures in the curriculum, and reduce mistakes while improving the performance of master trainers.
He said that the refresher training is timely because very soon, the Year Two teachers and headteachers from the pilot schools will be trained to deliver the curriculum countrywide.
The ACEO (N) said that based on reports the master trainers did a splendid job monitoring the teachers in the pilot schools across the country over the last year. He encouraged them to have the same zeal and enthusiasm to monitor the Year Two teachers so that there can be successful outcomes at the end of the 2023 – 2024 academic year.
A total of one hundred nursery schools across the eleven education districts will be required to participate in the pilot. The office of the ACEO (Nursery) in collaboration with the Guyana Education Sector Project Program will organize training for head teachers, year two teachers, and year one teachers in the pilot schools who were not previously trained to pilot this curriculum.
This training will be conducted from July 24th to July 28th, 2023 for Regions One, Two, Five, Nine, 10 and Georgetown in their respective districts. However, teachers from Kamarang in Region Seven will be joining the training scheduled for the Georgetown district.
From August 7 to August 11, 2023, teachers in Regions Three, Four, Six and Seven (Bartica) will be trained within their districts. However, teachers from Region Eight will be joining the Region Four group. Master trainers will be responsible for these training sessions.
A good curriculum makes space for the recognition of each student's personal, social and cognitive capacities and respects differences in how children learn. It will support teachers in leading, assisting and encouraging each child to achieve their potential. (Ministry of Education release)