President, Dr Irfaan Ali, during his feature address at the opening ceremony of the National Toshaos Council (NTC) Conference 2023 on Monday stated that all issues raised by Indigenous leaders must be addressed before they return to their villages on Friday.
The NTC Conference is being held at the Arthur Chung Conference Center (ACCC) located in Liliendaal, Georgetown. This year's theme for the NTC Conference is 'Advancing Sustainable Village, Development in a Low Carbon Economy.'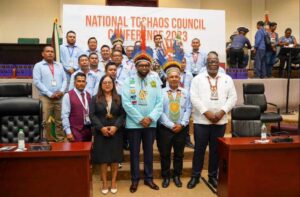 Indigenous leaders from all 10 administrative regions conveyed at ACCC on Monday morning for the opening ceremony to a week packed with activities and engagements with various stakeholders including the different Government Ministries.
During his address, President Ali said, "Today as I speak to you, I can say to you that we (Government) have almost completely implemented all the promises we made to you at the 2020 elections in just three years."
The Head of State underscored that his administration is working on advancing several programs for the various Indigenous communities.
"Bringing more development, advancing the lives of the people in your communities in a greater and more meaningful way," he said.
However, the president noted that with more development comes greater challenges.
"I am aware that we still have challenges from different sectors, that is why I have instructed that every single PS (Permanent Secretary for the ministries) must spend the entirety of tomorrow at the National Toshaos Council Conference," President Ali disclosed.
According to the president, the PS is responsible for resolving the issues raised by the Indigenous leaders, within the boundaries of the law, and regulations.
"Every outstanding issue you have in the various sector must be completed before you leave here and go back to your villages, every single one of the issues, and all those issues you raise with them they will complete it and before you leave on Friday, they will be a report right here at this conference on the issues that were raised and the actions that were taken to resolve those issues," the Head of State noted.
The conference ends on Friday September 1, with the launch of Amerindian Heritage Month (Cultural Extravaganza) at the National Stadium, East Bank Demerara.
On the agenda for the week is a discussion with Vice President (VP) Bharrat Jagdeo on the Low Carbon Development Strategy 2023 (LCDS 2030), as well as an examination of sectoral issues which will see dialogue with cabinet members. There will also be a session with ExxonMobil, the United Nations, the Inter-American Development Bank, European Union and the Canadian High Commission.