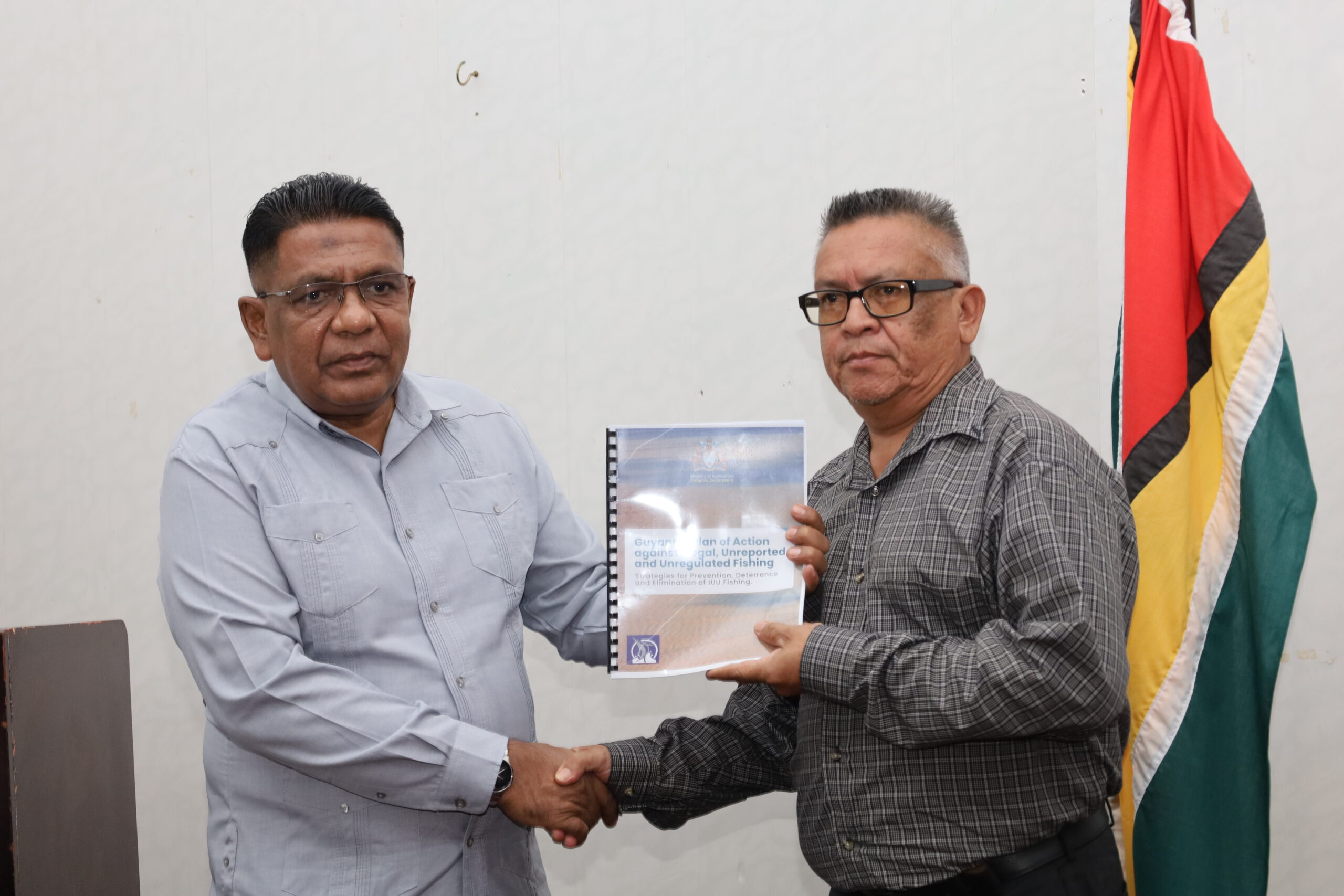 Agriculture Minister Zulfikar Mustapha on Wednesday unveiled Guyana's National Plan of Action to Prevent, Deter, and Eliminate Illegal, Unreported, and Unregulated (IUU) Fishing. The document was handed over to his ministry's Fisheries Department.
The event took place in the ministry's main board room and saw attendance from representatives from the World Wildlife Fund-Guianas (WWF-Guianas), the Guyana Revenue Authority (GRA), the Maritime Administration Department (MARAD), and other officers from the ministry's Fisheries Department.
While offering remarks at the exercise, Minister Mustapha said that the fisheries sector provides an essential source of food, employment, well-being, and trade globally and for many Guyanese.
"There is a continued demand for fish and fish products, owing to the massive expansion of our global population…However, we are cognizant of the fact that our efforts to ensure the sustainability of the fishing industry face significant threats such as climate change and illegal, unreported, and unregulated fishing.
"The Government of Guyana continues to invest heavily in proactive initiatives that ensure Guyana is on a sustainable path to being a food-secure nation. This plan of action, therefore, strives to promote long-term conservation and the sustainable use of our fisheries resources," Minister Mustapha said.
Minister Mustapha also said that with this framework, the ministry will seek to improve the management of Guyana's fisheries resources, which is supported by legislative reform.
He said the framework also provides a targeted approach towards fisheries monitoring, control, surveillance, and enforcement, given the nature of the fisheries and the limited human and financial resources.
According to the United Nations Food and Agriculture Organization (FAO) illegal, unreported, and unregulated fishing activities are responsible for the loss of 11-26 million tins of fish each year, which is estimated to have an economic value of US $10 – 23 billion. In order to combat this, Sustainable Development Goal Number 4 urges the international community to effectively regulate harvesting and end overfishing, illegal, unreported, and unregulated fishing and destructive fishing practices.
Meanwhile, a Representative of World Wildlife Fund- Guianas (WWF), Aiesha Williams in her address noted that a multi-stakeholder approach is needed to address IUU as it is a global challenge.
"IUU is a global challenge. It is one that can be addressed through a combination of governance enforcement, technology, and engagement. WWF, across the network, has been working to reduce IUU fishing for years and we recognize the crucial role the industry and other stakeholders need to play in effectively addressing IUU," he explained.
Illegal, unreported, and unregulated (IUU) fishing is a broad term that captures a variety of fishing activities undermining sustainable fisheries management and the health of the marine environment.
Further, Minister Mustapha disclosed that for the first time, Guyana was able to achieve a 100% pass for the Section 609 Turtle Excluder Device (TED) Inspection with the United States National Oceanic and Atmospheric Administration (NOAA), becoming only the 4th,country to achieve this.
Back in 2021, the Fisheries Department began working with the Caribbean Regional Fisheries Mechanism (CRFM) to develop Guyana's National Plan of Action for the fight against Illegal, Unreported, and Unregulated (NPOA-IUU) Fishing. This NPOA would be based on the principles of the Regional Plan of Action (RPOA-IUU) which seeks to assist its Member States in implementing the foremost measure in the RPOA-IUU.
Over the next two days, the Fisheries Department and the WWF will also be hosting an inception workshop that aims to gather representatives from the entities responsible for fisheries management in Guyana, Suriname, and French Guiana with the primary objective of exploring potential avenues for collaboration to combat IUU in our waters.
National delegates from the respective countries will have the opportunity to make presentations intended to foster a better understanding of each country's role in fisheries management and mandates, as well as ongoing and future initiatives to combat IUU fishing. The first phase of this initiative is expected to lay the foundation for a long-term collaborative effort by soliciting input from the fisheries management bodies of each country.